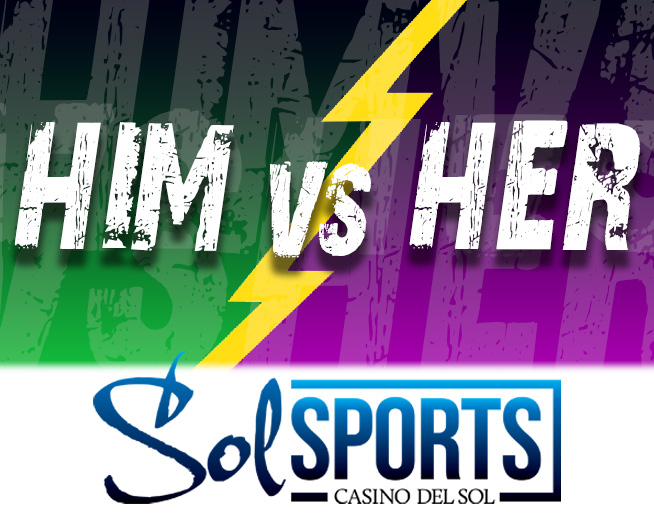 Max and Shannon go head-to-head every week as they place their SolSports bets to see who comes out on top!
Every month, the winnings will be donated to a charity.
View their stats below and don't forget to check out the brand new Sports Book SolSports at Casino Del Sol!
Max vs Shannon
Week of January 31, 2022
Max
| | | | | | | |
| --- | --- | --- | --- | --- | --- | --- |
| Date | Sport / League | Selection | Bet Type | Event | Win (Y/N) | Stake |
| 1-Feb-22 | NBA | PHO | -6 | BKN vs PHO | YES | 20 |
| 3-Feb-22 | NCAAM | USC | -6.5 | USC vs ASU | NO | 20 |
| 3-Feb-22 | NBA | LAC | -3.5 | LAL vs LAC | NO | 20 |
Shannon
| | | | | | | |
| --- | --- | --- | --- | --- | --- | --- |
| Date | Sport / League | Selection | Bet Type | Fixture / Event | Win (Y/N) | Stake |
| 1-Feb-22 | NBA | GS | -2.5 | GS vs SA | YES | 20 |
| 3-Feb-22 | NCAAM | Arizona | -7 | AZ vs UCLA | YES | 20 |
| 3-Feb-22 | NBA | Phoenix | -4.5 | PHO vs ATL | NO | 20 |
Week of January 24th, 2022
Max
| | | | | | | |
| --- | --- | --- | --- | --- | --- | --- |
| Date | Sport / League | Selection | Bet Type | Event | Win (Y/N) | Stake |
| 25-Jan-22 | NHL | Pens | -1.5 | Arizona vs Pitt | YES | 20 |
| 27-Jan-22 | NHL | Pens | -1.5 | Seattle vs Pitt | NO | 20 |
| 27-Jan-22 | NHL | OVER | 6 | Seattle vs Pitt | NO | 20 |
| 30-Jan-22 | NFL | SF | +3.5 | SF vs LAR | YES | 20 |
| 30-Jan-22 | NFL | CIN | +7.5 | CIN vs KC | YES | 20 |
Shannon
| | | | | | | |
| --- | --- | --- | --- | --- | --- | --- |
| Date | Sport / League | Selection | Bet Type | Fixture / Event | Win (Y/N) | Stake |
| 25-Jan-22 | NCAAM | Arizona | -2.5 | Arizona vs UCLA | NO | 20 |
| 25-Jan-22 | NHL | Arizona | +1.5 | Arizona vs Pitt | NO | 20 |
| 27-Jan-22 | NBA | Lakers | +2.5 | LAL vs Phil | NO | 20 |
| 27-Jan-22 | NBA | GS | -6.5 | Min vs GS | YES | 20 |
| 30-Jan-22 | NFL | LAR | -3.5 | SF vs LAR | NO | 20 |
Week of January 17th, 2022
Max
| | | | | | | |
| --- | --- | --- | --- | --- | --- | --- |
| Date | Sport / League | Selection | Bet Type | Event | Win (Y/N) | Stake |
| 18-Jan-22 | NHL | Nashville | -1.5 | Vancover vs Nashville | NO | 20 |
| 21-Jan-22 | NBA | Phil | -8 | LAC vs Phil | NO | 20 |
| 21-Jan-22 | NHL | Pitt | -1.5 | Pitt vs Columbus | YES | 20 |
| 22-Jan-22 | NFL | Green Bay | -5.5 | S.F. vs Green Bay | NO | 20 |
| 23-Jan-22 | NFL | K.C. | -2.5 | Buffalo vs KC | YES | 20 |
Shannon
| | | | | | | |
| --- | --- | --- | --- | --- | --- | --- |
| Date | Sport / League | Selection | Bet Type | Fixture / Event | Win (Y/N) | Stake |
| 20-Jan-22 | NBA | Suns | -3 | Phoenix vs Dallas | YES | 20 |
| 21-Jan-22 | NBA | Wizards | -1.5 | Wash vs Toronto | NO | 20 |
| 22-Jan-22 | NFL | Green Bay | -5.5 | S.F. vs Green Bay | NO | 20 |
| 23-Jan-22 | NFL | Bills | +2.5 | Buffalo vs KC | NO | 20 |
| 23-Jan-22 | NFL | Rams | +3 | L.A. vs Tampa Bay | YES | 20 |
Week of January 10th, 2022
Max
| | | | | | | |
| --- | --- | --- | --- | --- | --- | --- |
| Date | Sport / League | Selection | Bet Type | Event | Win (Y/N) | Stake |
| 10-Jan-22 | NCAAF | Alabama | | Georgia vs Alabama | NO | 20 |
| 11-Jan-22 | NBA | Chicago | | Chicago vs Detroit | YES | 20 |
| 11-Jan-22 | NHL | Penguins | | Pitt vs Anaheim | YES | 20 |
| 16-Jan-22 | NFL | New England | 4 | NE vs Buffalo | | |
Shannon
| | | | | | | |
| --- | --- | --- | --- | --- | --- | --- |
| Date | Sport / League | Selection | Bet Type | Fixture / Event | Win (Y/N) | Stake |
| 11-Jan-22 | NBA | Phoenix | | Phoenix vs Toronto | YES | 20 |
| 13-Jan-22 | NHL | Nashvill | | Nash vs Buffalo | | 20 |
| 16-Jan-22 | NFL | Tampa | | Philly vs TB | | 20 |
Week of January 3rd, 2022
Max
| | | | | | | |
| --- | --- | --- | --- | --- | --- | --- |
| Date | Sport / League | Selection | Bet Type | Event | Win (Y/N) | Stake |
| 3-Jan-22 | NBA | MIL | | MIL vs Detroit | NO | 20 |
| 5-Jan-22 | NBA | Golden St | | GS vs Dallas | NO | 20 |
| 8-Jan-22 | NHL | Penguins | | Pitt vs Dallas | NO | 20 |
| 9-Jan-22 | NFL | Colts | | Indy vs Jags | NO | 20 |
| 9-Jan-22 | NFL | Tampa Bay | | TB vs Carolina | YES | 20 |
Shannon
| | | | | | | |
| --- | --- | --- | --- | --- | --- | --- |
| Date | Sport / League | Selection | Bet Type | Fixture / Event | Win (Y/N) | Stake |
| 3-Jan-22 | NBA | Golden St | | Golden St vs Miami | YES | 20 |
| 5-Jan-22 | NBA | Washington | | Wash vs Houston | NO | 20 |
| 8-Jan-22 | NFL | KC | | KC vs Denver | YES | 20 |
| 8-Jan-22 | NHL | Coyotes | | Coyotes vs Predators | NO | |
| 9-Jan-22 | NFL | Tennessee | | Tenn vs Houston | YES | 20 |
Week of December 27th, 2021
Max:
| | | | | | | |
| --- | --- | --- | --- | --- | --- | --- |
| Date | Sport / League | Selection | Bet Type | Event | Win (Y/N) | Stake |
| 31-Dec-21 | NCAAF | Michigan | 7.5 | Georgia vs Mich | NO | 20 |
| 1-Jan-22 | NCAAF | Penn St | -1 | Arkansas vs Penn St | NO | 20 |
| 1-Jan-22 | NCAAF | Ol Miss | -1 | Baylor vs Ole Miss | NO | 20 |
| 2-Jan-22 | NFL | K.C. | -4 | Chiefs vs Bengals | NO | 20 |
| 2-Jan-22 | NFL | Cardinals | 2.5 | Cowboys vs Cardinals | YES | 20 |
Shannon:
| | | | | | | |
| --- | --- | --- | --- | --- | --- | --- |
| Date | Sport / League | Selection | Bet Type | Fixture / Event | Win (Y/N) | Stake |
| 31-Dec-21 | NCAAF | Boise St | -8 | Arizona Bowl | | 20 |
| 1-Jan-22 | NCAAF | Notre Dame | -2 | Fiesta Bowl | NO | 20 |
| 1-Jan-22 | NCAAF | Ohio St | -6.5 | Rose Bowl | NO | 20 |
| 2-Jan-22 | NFL | Rams | -3 | Rams vs Ravens | YES | 20 |
| 2-Jan-22 | NFL | Bucs | -11 | Buccaneers vs Jets | NO | 20 |
---
Week of December 20th
Max:
| | | | | | | |
| --- | --- | --- | --- | --- | --- | --- |
| Date | Sport / League | Selection | Bet Type | Event | Win (Y/N) | Stake |
| 20-Dec-21 | NFL | Vikings | -5 | Vikings @ Bears | YES | 20 |
| 21-Dec-21 | NCAAF | UTSA | -2 | UTSA vs San Diego St | NO | 20 |
| 25-Dec-21 | NFL | Packers | -7 | Browns @ Packers | NO | 20 |
| 25-Dec-21 | NBA | Suns | -3.5 | Suns vs Warriors | NO | 20 |
| 26-Dec-21 | NFL | Falcons | -5.5 | Falcons vs Lions | NO | 20 |
Shannon
| | | | | | | |
| --- | --- | --- | --- | --- | --- | --- |
| Date | Sport / League | Selection | Bet Type | Fixture / Event | Win (Y/N) | Stake |
| 21-Dec-21 | NCAAF | San Diego St | 2 | UTSA vs San Diego St | YES | 20 |
| 25-Dec-21 | NBA | Celtics | 7 | Celtics vs Bucs | YES | 20 |
| 25-Dec-21 | NBA | Hawks | 1 | Hawks vs Nicks | NO | 20 |
| 26-Dec-21 | NFL | Eagles | -9 | Giants @ Eagles | YES | 20 |
| 26-Dec-21 | NFL | Tampa | -11 | Buccaneers @ Panthers | YES | 20 |