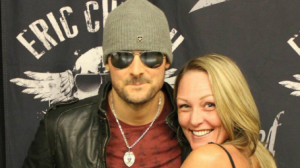 Hi!  I'm Kricket and I report on traffic conditions in the greater Tucson area.  Born and raised in Tucson, I graduated from Catalina High School and quickly got an intership at a local radio station and eventually landed a paid position reporting airborne traffic conditions for a local traffic network.
I am lucky enough to have found my way to KiiM-FM and I am working with the best people in the business!
In my spare time I enjoy randomly directing traffic, reading pirate maps, listening to police scanners to decipher morse code and building forts.
My guilty pleasures are carbohydrates, beards, and any reality TV show about tattooing.
https://www.facebook.com/kristina.jolliff
or 
https://twitter.com/KricketJolliff